Ruffhaus NYC is an independent lifestyle brand for dogs & dog lovers. Based out of our studio in Brooklyn, NY, we strive to bring communities together through our products, designs & love for our furry friends. Dogs are becoming increasingly centralized in our lives as we're reminded time and again that through dogs, all things are possible. Because of this, we provide quality goods that put the *fun* in function for hot dogs (and their humans) worldwide.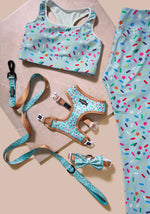 Why Ruffhaus NYC
Style
You can count on stellar chic and quality when you choose Ruffhaus NYC. We proudly offer products that are as consciously designed as they are cool.
Quality
The materials selected to create Ruffhaus apparel and accessories are ethically sourced and manufactured with longevity in mind.
Culture
Ruffhaus NYC draws its inspiration from real life dogs and their adventures in the human realm. We know that canine companions are the lifeline to happiness with positive people. Let us outfit those moments so that they are unforgettable.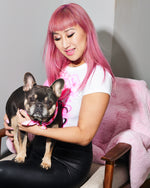 About Us
At Ruffhaus NYC, we split the difference between boldness and relatability. Our designs are produced by California native & longtime Brooklyn resident, Effie Liu, whose extensive track record in fashion and graphic design has lead her to a hands on approach to each creation. Each of our designs must pass the approval of our resident Frenchie & HBIC, Hot Girl Frank (yes, the hooman gear too). Our vision of activewear and doggy chic lifts spirits and honors dogs and the dog-obsessed everywhere, with fearless prints, nonpareil quality and refreshingly cool shit for hot dogs.